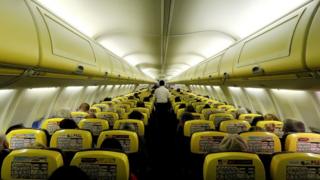 More than 30 Ryanair passengers, some bleeding from their ears, have received hospital treatment in Germany after their plane to Croatia lost cabin pressure, German police say.
Flight FR7312 from Dublin to Zadar made an emergency landing in Frankfurt.
The airline said oxygen masks were deployed and the crew carried out a "controlled descent".
The plane descended 8,000m (26,000ft) from 11,300m to 3,000m in seven minutes, according to Flight Radar.
Ryanair said the plane "landed normally and customers disembarked, where a small number received medical attention as a precaution".
The plane was carrying 189 passengers, 33 of whom were hospitalised, and some decided not to continue with their journey, German police said.
Ryanair said it would pay for hotels for the affected passengers but added that there was a "shortage of available accommodation".
Earlier this week a co-pilot smoking an e-cigarette on an Air China flight caused the plane to start a rapid emergency descent, bringing the plane 6,500m lower, investigators said.
The co-pilot tried to conceal his actions but accidentally shut off the air-conditioning, causing oxygen levels to fall.
Ryanair is Europe's largest airline by passenger numbers, according to the International Air Transport Association. It flies in 37 countries and carried 130 million passengers last year.
Dozens hurt as Ryanair flight loses cabin pressure