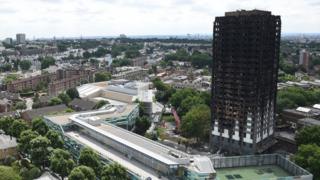 Government funding for the removal of dangerous cladding from some tower blocks in the wake of the Grenfell fire has been announced by Theresa May.
Only buildings owned by councils and housing associations will qualify for funding, the government has said.
The prime minister said "immediate action" was needed to remove cladding similar to that blamed for the spread of the Grenfell fire from high-rise buildings around the UK.
The work will cost an estimated £400m.
Mrs May told MPs that fire and rescue services had visited more than 1,250 tower blocks around the country since the fire on 14 June last year, which cost the lives of 71 people.
Cladding on 228 buildings failed safety tests after the disaster.
On Thursday, Dame Judith Hackitt, the senior engineer responsible for reviewing the building regulations in the wake of the Grenfell fire, will publish her final report.
Meanwhile, Housing Secretary James Brokenshire told the Commons not all Grenfell survivors will be rehoused by next month's one-year anniversary.
Of the 210 households in need of a new home, 201 have accepted offers of temporary or permanent accommodation. Of those 201, 138 have moved into their accommodation.
"While progress has been made, there is no question that this has been too slow," said Mr Brokenshire. "As a result, some households will still be in emergency accommodation in June."
He added that it was "understandable" that some in the community would feel "let down" but said the local council now had 300 properties available "to those who need them".
"As we approach the anniversary of the appalling tragedy that was the Grenfell Tower fire, our thoughts are with the victims and survivors and all those affected by that tragedy," added Mrs May.
The prime minister said that while councils and housing associations "must remove dangerous cladding quickly", the new scheme should not undermine other "important maintenance and repair work".
Privately-owned tower blocks will not be covered by government funding with residents in some buildings covered in the cladding initially being asked to cover the costs.
Leaseholder residents in the Citiscape building in Croydon, south London, were asked to pay up to £31,300 each in order for the cladding to be replaced but a housing tribunal later ruled the tower's owner, Barratt Developments, should pay instead.
Grenfell Tower fire: May pledges to fund cladding removal}