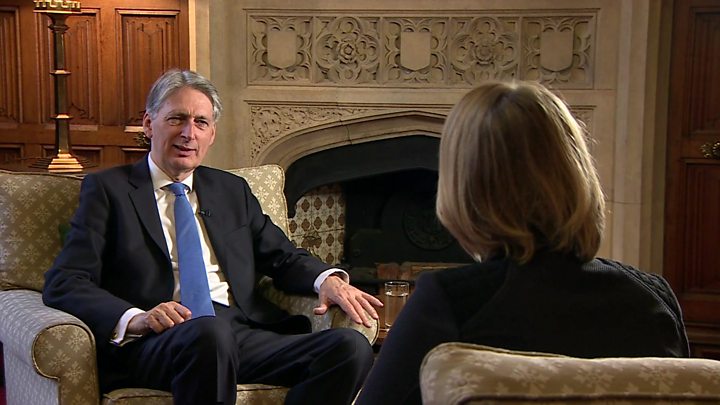 Philip Hammond has said he would like to spend more money on the NHS but only if the public finances allow it.
The chancellor told the BBC's Laura Kuenssberg that he "recognised the pressures" on public services after years of restraint on public spending.
The NHS, he said, had got an extra £9bn since 2016 but an ageing society was creating "continuous upward pressures".
He hoped there would be "headroom" to allow him to allocate extra resources in the Budget later this year.
"Of course all chancellors would like to have more money available to spend," he said.
The BBC's political editor said it was Mr Hammond's clearest hint yet that he is prepared to increase spending on health – amid calls from Labour and the unions for immediate action.
Mr Hammond was speaking after delivering his Spring Statement, in which he announced no new spending commitments but said there was "light at the end of the tunnel" after eight years of austerity.
In the update to MPs, he said the Office for Budget Responsibility's growth forecast for 2018 had been revised marginally upwards while the watchdog said it expected public borrowing to fall every year until 2021-22.
Mr Hammond told the BBC two major "milestones" had now been passed, with debt as a share of GDP starting to fall and the UK no longer borrowing to fund day-to-day spending.
He warned this did not mean that the government would relax its grip on public spending.
But amid reports that the cabinet has been discussing how to find more money for the NHS, he said ministers were looking at spending needs "across the piece" ahead of the Budget and a spending review next year.
"Of course we recognise all these pressures," he said. "It is not just the health service. There are pressures in local government and other areas but we have to do this in a balanced way".
"We have put a lot more money into the NHS but of course we recognise the implications of an ageing society and an ageing population – not just for the health service but for our social care services as well."
"I hope that the improvement in the public finances that was hinted at in today's OBR report, I hope that those will be carried through the autumn report and that will allow us to use some of that headroom at the autumn Budget to increase spending on our public services.
"Of course that is what I would like to do if the public finances allow it."
Hammond: I would like to spend more money on public services}