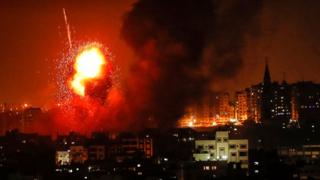 Air strikes by Israel's military on the Gaza border have killed three people including a pregnant woman and her toddler, the Gaza Health Ministry says.
Israel launched strikes on Wednesday after dozens of rockets were fired into Israeli territory by Hamas.
Several people in Israel have been hurt by the rocket attacks, local media say.
The Gaza Health Ministry say pregnant 23-year-old Enas Khammash and her 18-month daughter were killed in Jafarawi in central Gaza.
Her husband was reportedly injured.
A Hamas militant was also killed in one of the strikes, while at least 12 people in Gaza were reportedly injured, health officials said.
Israel has not commented on the reported casualties in Gaza yet.
The Israel Defense Forces (IDF) said the violence broke out after militants shot at an IDF vehicle in Gaza on Wednesday.
After Israel responded with tank fire, dozens of rockets were sent toward Israeli territory on Wednesday night.
Hamas's military wing said it was behind the rocket attacks. Earlier this week two of its militants were killed after Israel shelled a Hamas border post in northern Gaza.
The Israel Defense Forces Twitter account said its fighter jets had targeted more 140 strategic sites, including a weapons manufacturing and storage facility.
"The Israeli strike was conducted in response to the rockets launched from the Gaza Strip at Israeli territory over the course of the evening and night," it said.
It said about 150 rockets had been launched from Gaza towards Israeli territory.
Israeli television broadcast images of damage to homes and cars in the town of Sderot.
The cross-border violence comes soon after a delegation of senior Hamas officials visited Gaza to discuss a ceasefire agreement with Israel proposed by Egypt and the UN.
On Wednesday, UN Middle East envoy Nickolay Mladenov condemned the Hamas rocket fire and called for both sides to step away from the brink.
The last four months have seen an upsurge in violence along the Gaza-Israel border.
More than 160 Palestinians have been killed by Israeli forces – most during weekly protests at which thousands of Palestinians have expressed their support for the declared right of Palestinian refugees to return to their ancestral homes in what is now Israel.
Human rights groups have accused Israeli troops of using excessive force at the protests, but the military said they only opened fire in self-defence or on people trying to infiltrate its territory.
One Israeli soldier has been shot dead by a Palestinian sniper during the same period, while incendiary devices attached to balloons and kites launched by Palestinians have sparked hundreds of fires in southern Israel, burning some 3,000 hectares (7,400 acres) of forest and farmland.
Israeli air strikes 'kill woman and toddler'}