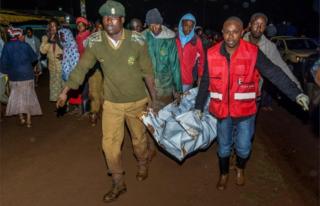 Officials in Kenya say a dam has burst on Wednesday night after heavy rain, causing "huge destruction" and killing at least 20 people.
The breach happened in the town of Solai, 190km (120 miles) north-west of the capital, Nairobi.
The Kenyan Red Cross says it has rescued some 40 people so far.
Hundreds are said to have been left homeless and more than 2,000 displaced. Local officials say the full extent of the damage is not yet clear.
Residents say many more people cannot be accounted for.
There are fears the death toll could rise as the search-and-rescue operation continues.
The Patel dam in Nakuru County broke its walls last night, and swept away hundreds of homes downstream, reports the BBC's Ferdinand Omondi in Nairobi.
Witnesses say they heard a loud bang before the waves swept through nearly 2km (1.2 miles) of private farmland where many live and work.
"The water has caused huge destruction of both life and property. The extent of the damage has yet to be ascertained," said Lee Kinyajui, governor of Nakuru county.
The Patel dam is one of three reservoirs owned by a large-scale farmer in the area.
Its walls are said to have caved in due to the high volumes of water following heavy rains that have been pounding the country.
Local leaders are now seeking to find out whether the farmer was licensed to erect those dams, amid concerns on the condition of the remaining two which are also said to be full, our correspondent says.
The toll now brings to 152 the number of people who have died countrywide as a result of floods since heavy rains started in March, according to Kenya's Capital FM radio website.
Kenya dam burst 'causes huge destruction'