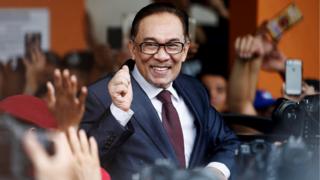 Malaysian politician Anwar Ibrahim has been freed from jail, paving the way for his return to politics.
Once seen as a potential future leader, he had been jailed on charges of sodomy and corruption after falling out with the government.
Malaysia's new Prime Minister Mahathir Mohamad sought a pardon for Mr Anwar, which was granted on Wednesday morning.
Mr Mahathir has promised to step aside for Mr Anwar to become prime minister within two years.
The politician was jailed for a second time three years ago on what he said were trumped-up sodomy charges.
For years he had been heading Malaysia's opposition movement, which has just defeated the former ruling party for the first time in the country's history.
Last week's shock election victory followed a reconciliation between Mr Anwar and 92-year old Mr Mahathir, who sacked and jailed him 20 years ago during his first stint as prime minister.
Mr Anwar walked free out of a hospital in the capital Kuala Lumpur where he has been undergoing treatment.
Supporters camped out at the hospital trailed him to the Istana Negara royal palace where he met Mr Mahathir.
"Long live Anwar," supporters on motorbikes yelled as they pull into the royal compound in support of their newly-freed leader.
"He is a symbol of freedom to Malaysians like me," 59-year old Ahmad Samsuddin told the BBC.
"Finally. It feels like the tide of change is turning in Malaysia after so many years of injustice. Today is a historic day with Anwar's release and will get even better."
Extraordinary twists and turns
The story of the relationship Mr Mahathir and Mr Anwar is one of extraordinary twists and turns.
During the 1990s they were political allies, serving as prime minister and deputy respectively.
But Mr Anwar was sacked in 1998 after falling out with his political mentor and as jailed a year later for abuse of power. In 2000 he was convicted of sodomy, and given an additional nine-year-term.
In 2004 his conviction was overturned and he led the opposition to unprecedented gains – though remained short of victory – in the 2008 and 2013 general elections.
One year later when he was heading into a state election he seemed likely to win, he was sent back to jail.
Events took a remarkable turn earlier this year, when his former political enemy Mahathir Mohamad announced he would join forces with the opposition and run for top office once again.
Mr Mahathir said he was sick of the corruption allegations plaguing the incumbent Najib Razak, another of his former allies.
One condition for Mr Mahathir being allowed to lead the coalition was that he agreed to secure a royal pardon for Mr Anwar who remained popular with his supporters.
Mr Mahathir agreed, and further said he intended to hand the prime ministerial post to Mr Anwar within two years.
Malaysia's Anwar Ibrahim freed from jail after Mahathir election win}