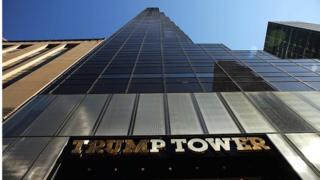 A Senate panel has released documents on a June 2016 meeting between top Trump campaign aides and a Russian delegation promising political "dirt".
The 2,500 pages of transcripts included interviews with Donald Trump's eldest son, Donald Trump Jr, who met a Russian lawyer ahead of the 2016 election.
He said he could not recall if he discussed the meeting with his father.
The meeting is a part of an ongoing probe by the US Department of Justice into alleged Russia meddling in 2016.
Senator Judiciary Chairman Chuck Grassley released the documents after additional witness interviews on Wednesday.
"Americans rightly have many questions about this meeting, and today, we are releasing the transcripts and exhibits from interviews we've conducted to allow the public to know what we know," the Republican senator said in a statement on Wednesday after releasing the documents.
"These materials, taken in their entirety, provide the most complete public picture of the events surrounding the meeting to date."
The Senate Judiciary Committee, which is conducting one of several investigations into Russia's alleged interference in the US election, interviewed Mr Trump Jr and four other people who attended the 9 June meeting at Trump Tower in New York.
Rob Goldstone, who arranged the meeting with Russian lawyer Natalia Veselnitskaya, Russian-American lobbyist Rinat Akhmetshin, Georgian-American businessman Ike Kaveladze and a translator testified before the panel.
Ms Veselnitskaya was not interviewed, but the committee released her written responses to a letter that Mr Grassley sent her last year.
The committee also did not interview the president's son-in-law, Jared Kushner, and then-campaign manager Paul Manafort, who both attended the 2016 meeting.
Senate panel releases report on 2016 Trump Tower meeting